---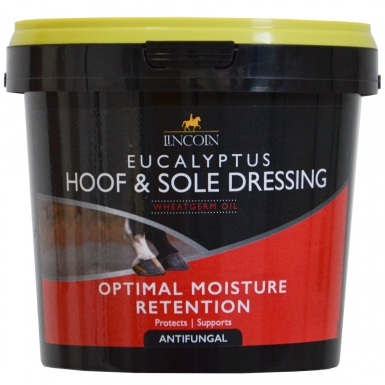 Lincoln
Eucalyptus Hoof & Sole Dressing - 1 Litre
£16.00
An antifungal, moisture-regulating hoof ointment fortified with Eucalyptus & Wheatgerm Oil formulated to optimise moisture levels when hoof integrity is compromised through imperfect conditions. Eucalyptus Oil has powerful antifungal properties to maintain a hoof & healthy frog whilst Wheatgerm Oil adds the benefits of a fatty acid complex to optimise & support the hoof's natural pliability. Protects & safeguards against brittleness & cracking, saturation & flaring dependent upon the conditions. Barefoot friendly.

Optimum moisture balance for the hoof wall anti-fungal protection for the frog & sole.

Fortified with Eucalyptus Oil to protect against fungal problems.

Wheatgerm Oil supplies a balanced fatty acid complex to complement the hoof's natural pliability, strength & mechanics by sealing in moisture.

Aids optimal moisture levels to avoid hoof wall saturation and flaring.

Supports against brittleness & cracking when turnout conditions transition from wet to dry.

Protects the hooves of stabled horses from the adverse effects of ammonia (urine).

Barefoot friendly.

Does NOT contain Stockholm Tar.
Manufacturer: Lincoln
Our Price: £16.00